Jump to recipe
Here's the thing… there are a lot of really great recipes out there – but they're not kosher because they mix some type of meat and dairy. I'm not one to replicate meat or poultry dishes that have dairy thrown in – but sometimes you want a tomato sauce free meatball! ya know what I'm saying???  I love tomatoes, but being that there are so many dishes that call for the "mother" sauce, I wanted to make a recipe for when you don't want it, can't have it; or simply want a break!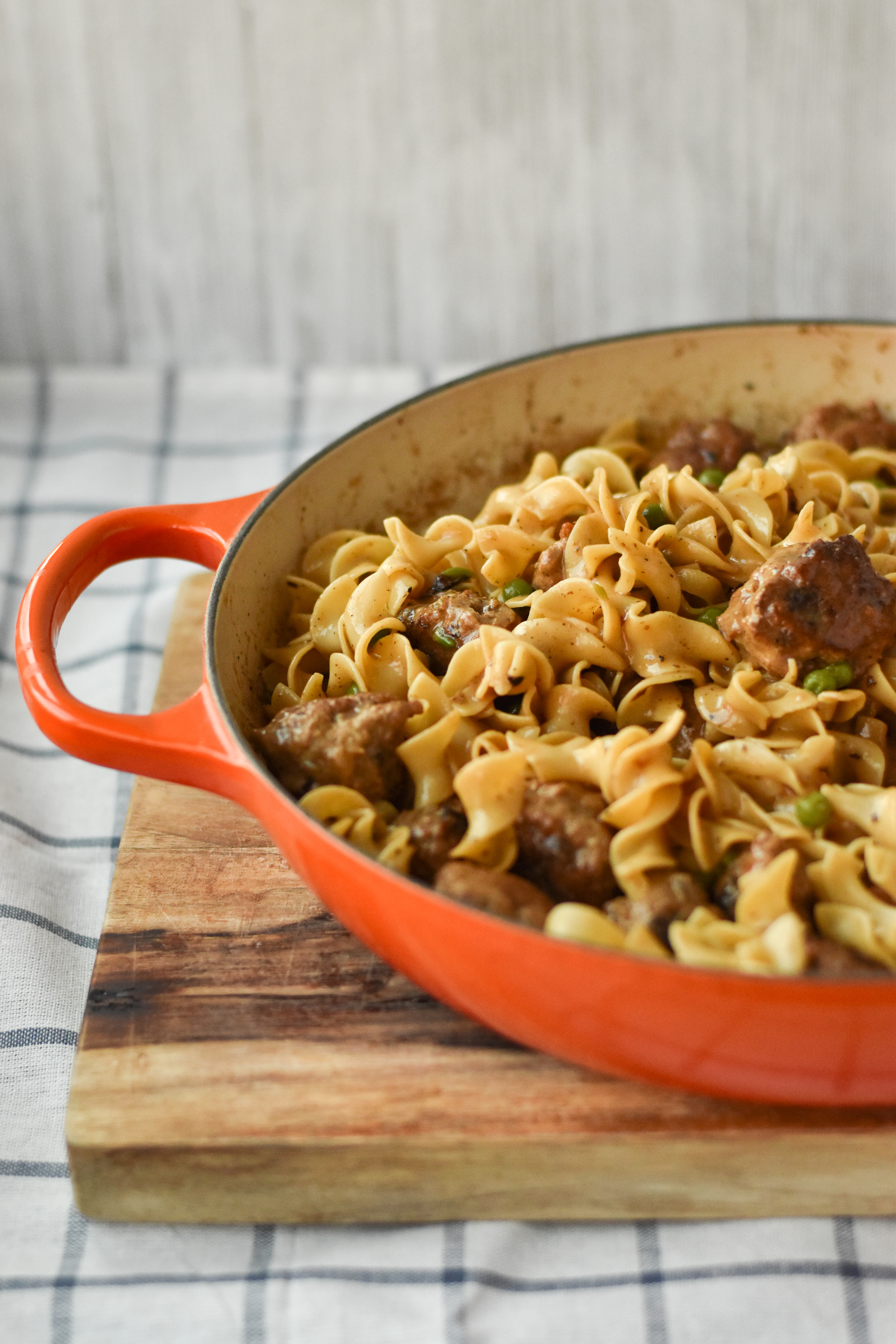 I call these "Swedish Inspired" mainly because the sauce is beef broth based and finished with a (non-dairy) sour cream. Other than that, they are pretty different from a traditional swedish meatball which is typically a mix of veal, pork and beef and flavored with all spice, and white pepper. Oh! and lest us not forget the panade – which is a wet bread mixture, that helps keep ground meat moist. Milk and bread is generally used, but you can use other liquids as well.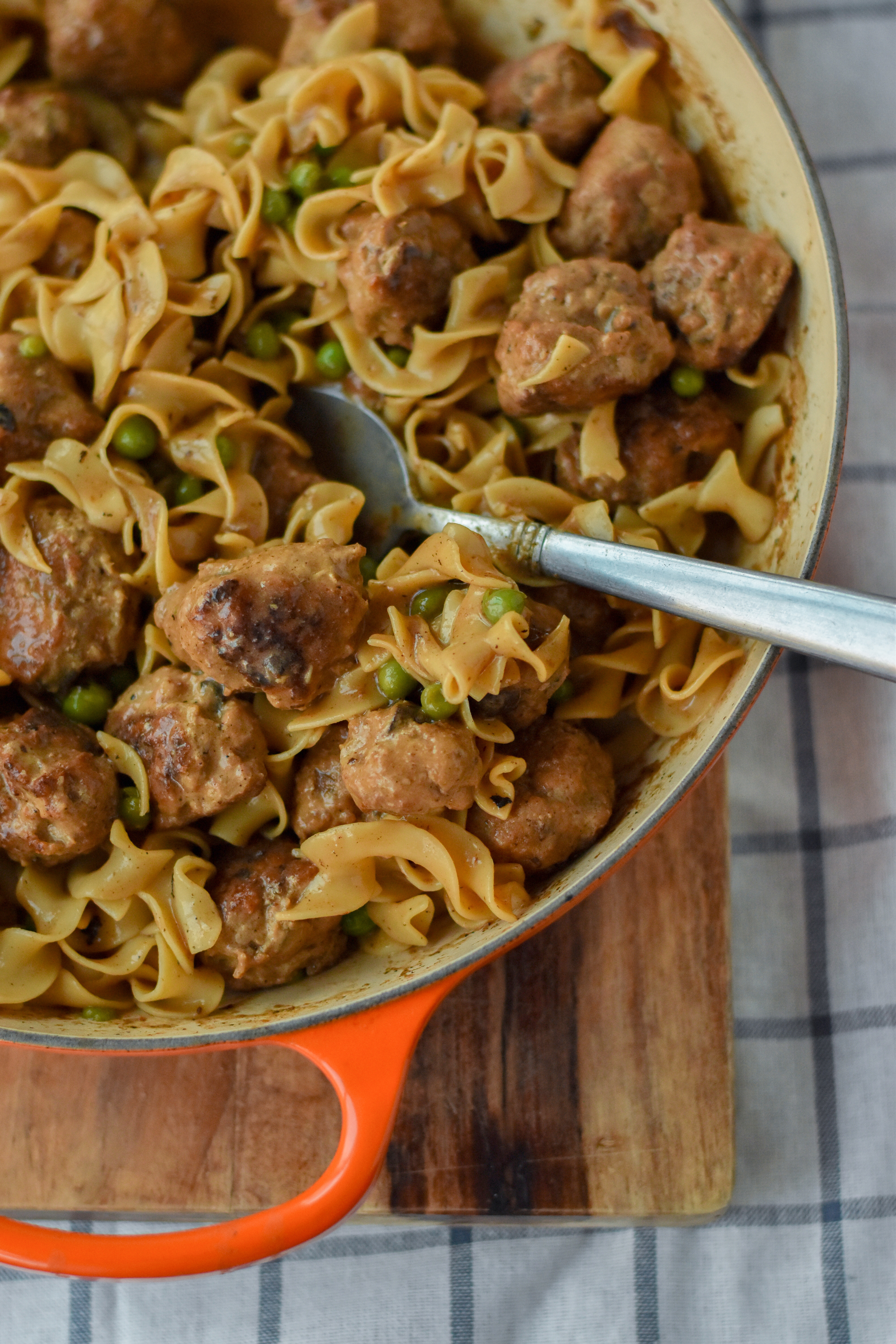 Ground beef, chicken or turkey can tend to dry out – especially if the fat content is low. I've also noticed that ground Kosher meat tends to be especially sticky when raw and can easily dry out. Using a panade is one method,and using grated zucchini works well too; depending how you are cooking the meat. I find that rolled oats also work very well when working with ground meat.
I used oats in this recipe and it worked out wonderfully because they expand a bit, making the finished meatball very tender. I also grated the onion, which I think is key – AND I added diced cremini mushrooms to the mix! Not only did they impart fantastic flavor, but they also helped in retaining moisture.
Dairy-Free Swedish Inspired Meatballs

Ingredients
For meatballs
1 pound ground chicken
1 pound ground turkey
1 half vidalia onion, grated
1 large cremini onion, diced small
1 egg
¼ cup rolled oats
Kosher salt
10 turns of fresh cracked pepper
2 teaspoons Onion powder
2 teaspoons Garlic powder
2-3 Tablespoons olive oil, for searing
For Sauce
1 tablespoon onion soup mix
1 -2 cups beef broth
1 tablespoon flour
1 container non dairy plain yogurt, (or 1 cup dairy free sour cream or 1 cup plain almond milk)
Wide egg noodles, for serving, optional
½ cup frozen peas, optional
Instructions
In a large bowl, mix together all the meatball ingredients. Mix just until combined. Form into approximately 1-inch balls.
In are large pan with semi tall sides, sear balls in olive oil on both sides. Work in batches if necessary in order not to overcrowd the pan. When all the balls are browned, reserve on a large plate.
Add a little bit more olive oil to the pan if there is none left, and add flour and using a whisk, scrape up any bits - while ensuring that you are mixing the flour well.
Over low heat, immediately, add the broth - continuously whisking the pan to ensure there are no lumps. Mix in onion soup mix and continue to whisk.
Next add your non-dairy yogurt, sour cream or almond milk (PS - the yogurt was the best) and whisk until all incorporated.
Add the meatballs back into the pan with sauce and cook covered, on low heat.
Meanwhile, cook your egg noodles (if using) and drain them just before they are cooked to your liking - you can then mix it in the pan with the sauce and meatballs.
I like to add frozen peas before serving so they are bright green (and I can call it a full meal, since they are a vegetable!)