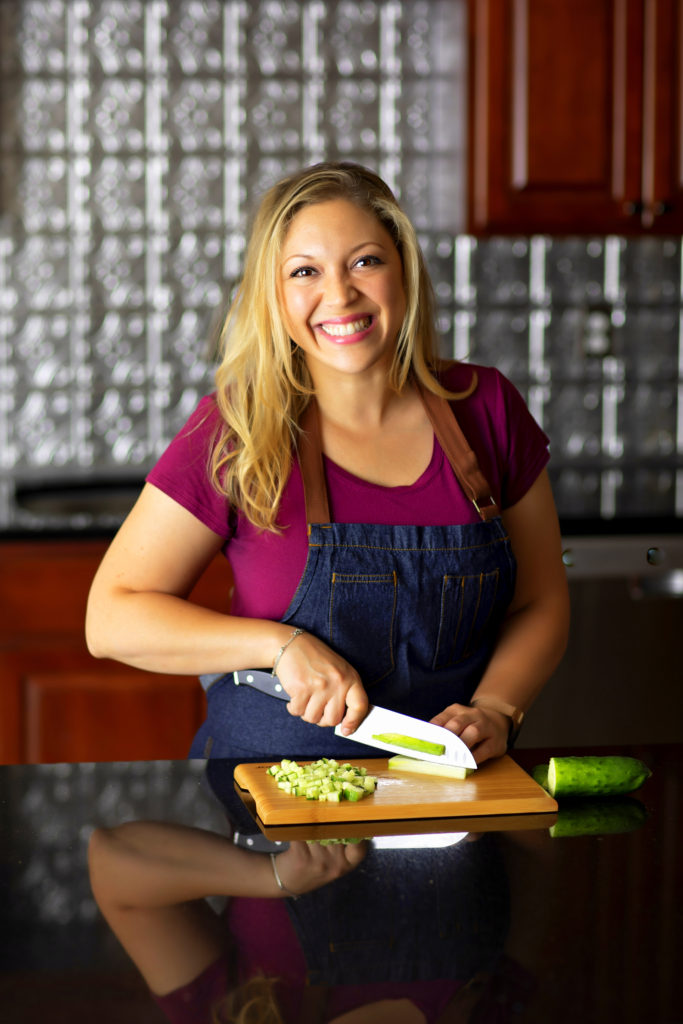 Hey!
I'm Sandy! Welcome to Plantains & Challah. (formerly The Kosher Tomato ) 
If I had to choose two foods to represent me, it would be Plantains & Challah! (I was born to a Colombian-Argentinean-Jewish family) 

YES, Latin Jews exist!
I am proud to say I am trained at The Culinary Institute of America in Hyde Park, NY and I cooked professionally for over 10 years. I have been fortunate to work with some really amazing chefs in New York City during that time.
Now, I'm a mom of two and I teach home cooks how to create delicious food without recipes by focusing on technique (and knife skills). My goal is to empower you with knowledge and give you confidence in the kitchen.
What you'll find here
As of August 2020, I'm in the process of updating the site to include more of the content I currently have on instagram – which is how-to videos, tips and tricks and general cooking knowledge you'll need to cook confidently!
Any recipes you find here will follow a kosher guideline, (no pork, seafood or mixing meat/poultry together) but don't let that stop you from experimenting. Remeber, a recipe is just a guideline!
Fun Facts
In 2008, I was featured as one of the "HEEB 100" (Jews doing cool things)


In 2009,  I became a finalist for filming The Food Network's Season 2 of "CHOPPED", I backed out at the end and missed the opportunity.


I organize my closet by color


I LOVE to clean and organize. And rearrange. (My husband is very understanding of this.)


I am terrible at math, but great with knife skills


I am fluent in Spanish, but my accent is kind of all over the place, prompting Latinos to always ask "De donde eres?"


 love weight lifting, ZUMBA, dance in general, and singing.



When it comes to music, I love everything from Classical symphonies, to old school hip-hop and most things in between.

 (But mainly, I am obsessed with Hip-hop)



My bucket list used to include travelling to at least one country on each continent. Not sure it is still possible with a FT job, two kids and a blog; but hey, you never know!
Subscribe to get my weekly emails (no spam, promise!) and follow me on social media

@Plantainsandchallah