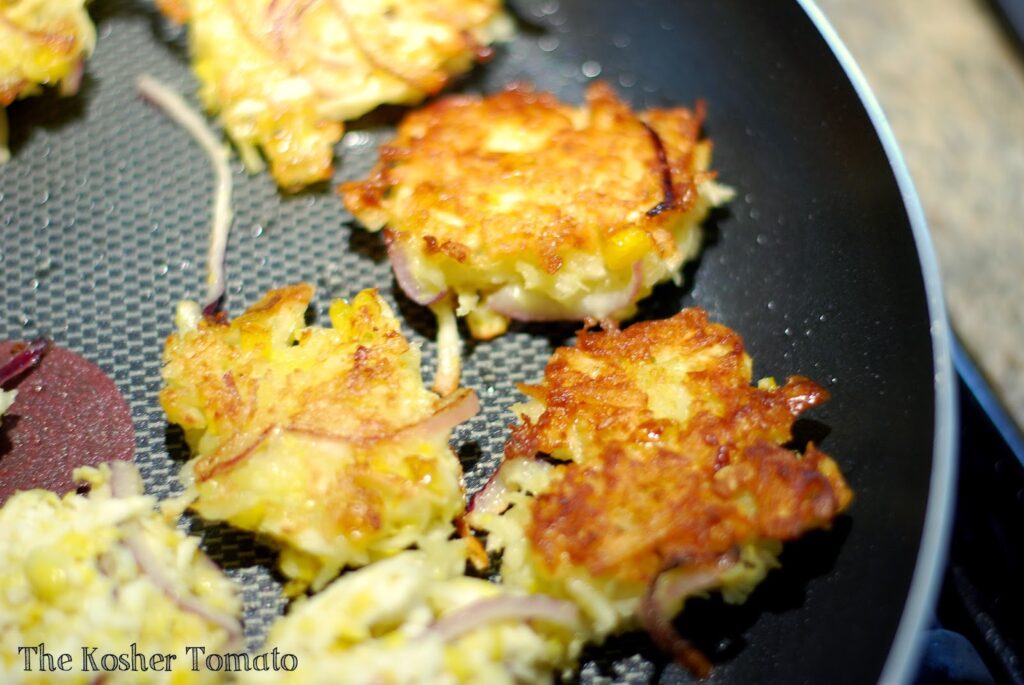 "Never judge a book by its cover". We've all heard this adage before and it rings true to this ugly looking root. It sits nestled along the hills of butternut squash, rutabaga, taro and the "batata" (Spanish word for sweet potato).
While you would normally look passed this, here are some reasons you may want to pick it up. It has good amount of Vitamin C, high in dietary fiber, loaded with potassium and high in folate. It also makes a great crunch when fried – which in the case of our latkes, that's a good thing!
Yucca root is sometimes referred to as cassava or manioc. It is eaten through Latin America, the Caribbean, Africa and South Asia and is basically like a starchier potato, and a bit milder tasting. I thought it would be a nice swap for a potato in these latkes, because of the tremendous crunch factor. Also because I was on a Latin inspired Chanukah with my Latkes De Plátano + Salsa De Ajo (Plaintain Latkes + Garlic Sauce)
This recipe does have a lot more liquid though (see photo above) so you want to make sure to really squeeze that out with a kitchen towel. This step will ensure ultimate crispiness.

Corn & Yucca Latkes

INGREDIENTS
1 Yucca, peeled and shredded *To peel the yucca, cut it in half and stabilize the root and cut down the waxy outer layer (shown in photo above)

1 small red onion, sliced thin

1 cup canned corn, buzzed a few times in a food processor/blender/mini chopper

1 egg, beaten

1/4 tsp sugar

Salt, pepper & enough vegetable oil to pan fry. *Start with less than you think. If the latkes are thin, they will crisp up in a small amount of oil and you will get the result without making them soggy.
Mix all latke ingredients in a bowl and mix well. On a very low flame, heat a frying pan with vegetable oil (start with a low, even layer across the entire pan)

Next, wring out the latke mixture in a kitchen towel, a little bit at a time to remove excess liquid.



Make small little mounds (I made mine mini) into the hot oil (raise the heat to medium) and cook until golden brown on one side.

Blot on a paper towel to absorb excess oil. Sprinkle with a bit of salt while they are still hot.

This would go very well with applesauce. It has a crunchy texture and savory and sweet taste that is addicting!