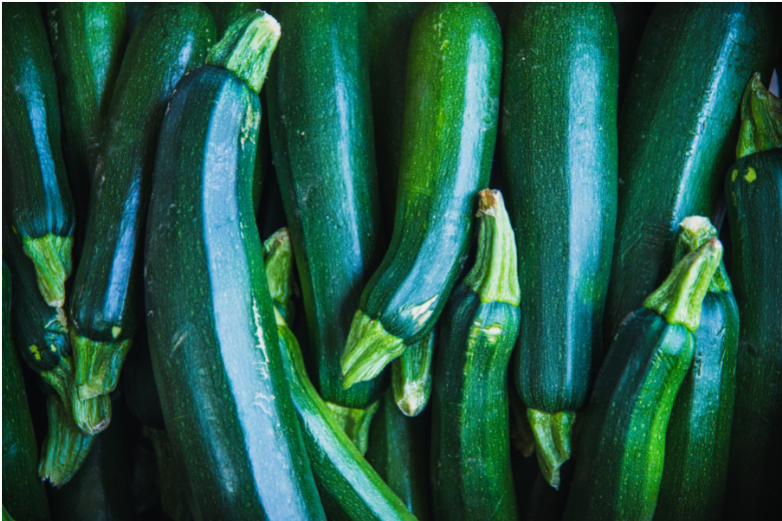 Zucchini is one of those things that literally can be thrown into everything and it's delicious. 
Zucchini is also known as "courgette and is a variety of the marrow squash. It has more potassium than a banana and is about 95% water!
Smaller zucchinis that are between 6-8 inches are the most flavorful – so don't always look for the biggest! 
I curated some simple and delicious ways to use it below:
Fritters

Zucchini Fritters With Garlic Herb Yogurt Sauce
Raw 
When zucchini is especially fresh (when it's in season), eating it raw is a delicious way to have it. 
 Zucchini Ribbon Salad by  Heart Healthy Greek 
You can use a "Y" peeler like this one to make the ribbons if you're nervous about the mandoline
Ratatouille
Roasted Ratatouille By Alexandra's Kitchen


Soup
Zucchini Soup by The Cozy Cook 

It has dairy but you can use veggie broth and a potato to keep it creamy and dairy free
Pie
Sweet Corn Zucchini Pie by Pinch Of Yum

Relish
Zucchini Relish By Attainable Sustainable


Stuffed
Garlic Sesame Chicken Zucchini Boats By Swanky Recipes
Marinated
Marinated Make-Ahead Zucchini By Food52

Stir Fry
This zucchini stir fry By Feasting At Home has tofu and makes a great vegan meal
Baking
Zucchini brownies by I am Baker
Spinach Zucchini Banana Muffins By Plantains and Challah (That's me! these are so versatile and one bowl!)
Blossoms
Don't forget about the blossoms! They are delicious as well. Ricotta Stuffed Squash Blossoms by Little Ferraro Kitchen