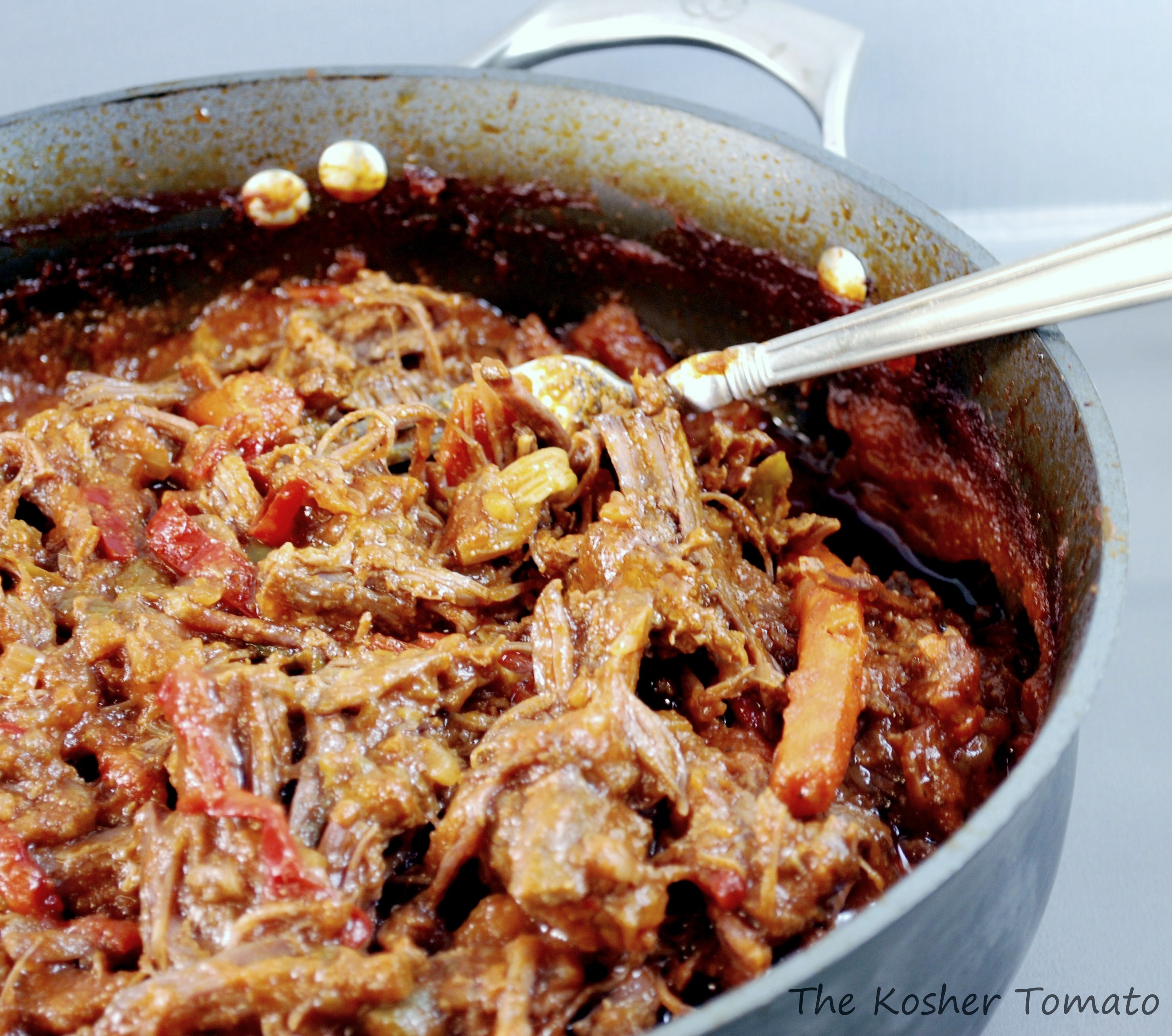 Ropa Vieja means "old clothes" in Spanish and is traditionally done with skirt or flank steak. Brisket also gives you the ability to shred once cooked for a while, and when using the second cut, it gives you more fat, therefore less chance of it drying out. The name of this dish comes because the beef is shredded and is supposed to resemble old, raggedy clothes.
This is not a traditional Passover or Jewish Holiday brisket by any means, but it's a fun and new way to serve it. It makes a delicious, saucy shredded brisket. I've found many recipes for Ropa Vieja, but in this version, I simplify the many steps. 
Ropa Vieja
Author:
Ingredients
2 pounds brisket, second cut
1 Tbsp garlic, minced
2 onions, sliced
2 green peppers, sliced
1 red pepper,sliced
1/2 can (29oz) tomato sauce
2 small carrots, cut in half
2 small celery, cut in half
1 bay leaf
-Seasonings for brisket-
2-4 tsp salt & pepper
2-4 tsp garlic powder
2-4 tsp onion powder
2-4 tsp cumin powder
2-4 tsp paprika
3 tsp oregano
Instructions
Preheat the oven to 350 F. Cut brisket to ensure it fits in the pan you will be cooking it in, (in the oven.) Season the brisket with seasonings above. Following the photo above, liberally season all over the meat to ensure even flavor.
Sear meat on stove in a little oil until brown on both sides and place in the pan that is to go into the oven. Reserve.
In the same pan you seared the brisket in, saute the onions, saute the garlic, onions and peppers until soft and a little golden, add the celery and carrot in and mix well. Combine this mixture with the brisket and top with the tomato sauce and cover with foi. Place it in the oven and cook for approximately 3 hours or until it shreds with a fork. Combine well and enjoy!