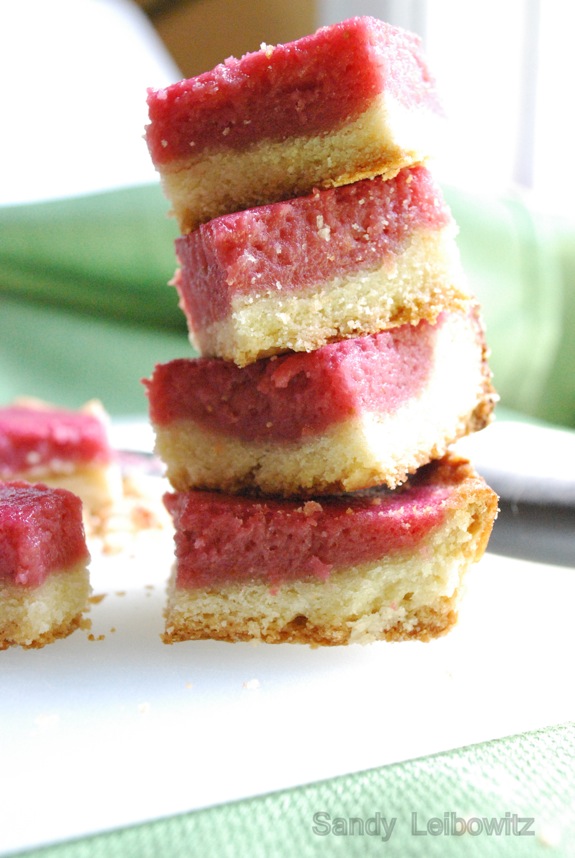 There is this new modern, hip and kosher site, called Cook Kosher. It is a place where kosher food is brought to another level by people like you! They have recipes, blogs, videos, discussion forums, contests and more.
It is beautifully designed and organized in a way that allows you to find what you are looking for quickly. I also really love the fact that this site is interactive. You can imagine how flattered I was when asked to guest blog because the owner thought my site and pictures were great! Thank you LS!
I decided to share a dessert – which is so out of character for me, but please read why. Click on over there and see it for yourself.
Raspberry-Strawberry Lemonade Bars – They are sweet, tart and pretty in pink! (adapted by the very talented Sophistimom )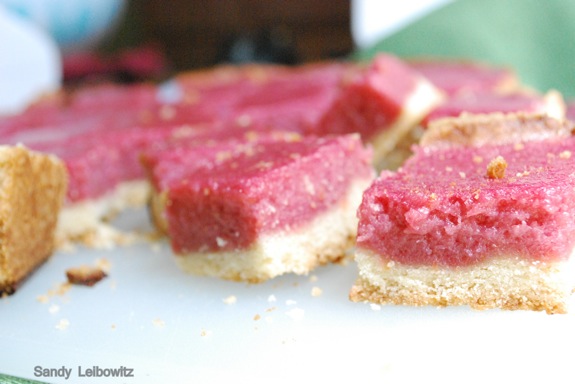 Let me explain why I don't do desserts.
In my regular life – I can be pretty rigid. I like organization, and for things to go as planned, for the most part. When it comes to cooking however, I like to break the rules. I cook from my heart and with feeling. I dance around the kitchen.
Desserts and baking in general are pretty exact. You've heard it "Baking is a science, cooking is an art" – well, I never did do well in science class….or math class.
To make myself feel better, I've always said there are two types of people "math & science people" and "English & creative people". I consider myself the latter.
Every once in a while I come across a recipe that changes my thoughts. This one came as an adaptation from Sophistimom. She has an amazing blog and these bars seemed like something my husband would really get a kick out of since he likes anything tart, sweet and colorful.
I was right, my husband gobbled up about 3 while I was trying to explain what was in them. Needless to say, I think he likes them.
I like that it is simple to make and you can multi task – even clean up while other things are going on. The best thing about this recipe is that you can use the crust for anything and then play around with the filling. Sweet or savory could work – just adjust the sugar.
Some examples:
Peanut Butter & Chocolate
Blackberry & Blueberry
Banana & Nutella
Orange & Mango
Lemon & Lavender
Ricotta & honey
Raspberry-Strawberry Lemonade Bars (Guest Blogging)
Author:
Ingredients
Crust:
9 tablespoons unsalted butter (1 stick, plus one tablespoon)
1/4 cup sugar
1 cup all purpose flour
pinch salt
Filling:
1 1/2 cups sugar
3 egg whites
1 egg
2/3 cup freshly squeezed lemon juice (from 3 lemons)
2 tablespoons lemon zest (from 2 lemons)
2/3 cup all purpose flour
pinch of salt
1-2 cups fresh raspberries & strawberries, mixed (or frozen)
Instructions
-Preheat oven to 350 degrees
– Cream butter, sugar, and salt with an electric mixer. Mix in flour until just incorporated. Flour hands and press dough into 8×8″square baking pan, so that it comes up about a 1/2 inch around the sides. (I didn't have a square pan – I just used a round pie plate and it worked fine!)
– Bake for 20-25 minutes, or until slightly golden brown. While it cools, prepare the filling.
– Whisk sugar, egg whites, egg, lemon juice and zest, flour, and salt in a large bowl. Puree fruit and then pass through a fine mesh sieve to extract all the pulp and juices. (I use my Magimix smoothie attachment which is awesome) Whisk into lemon mixture and pour into crust. Bake for 30-35 minutes until filling is completely set. (give it a jiggle) Let cool completely. Freeze for a bit, cut into squares. Tip: they taste best eaten cold.