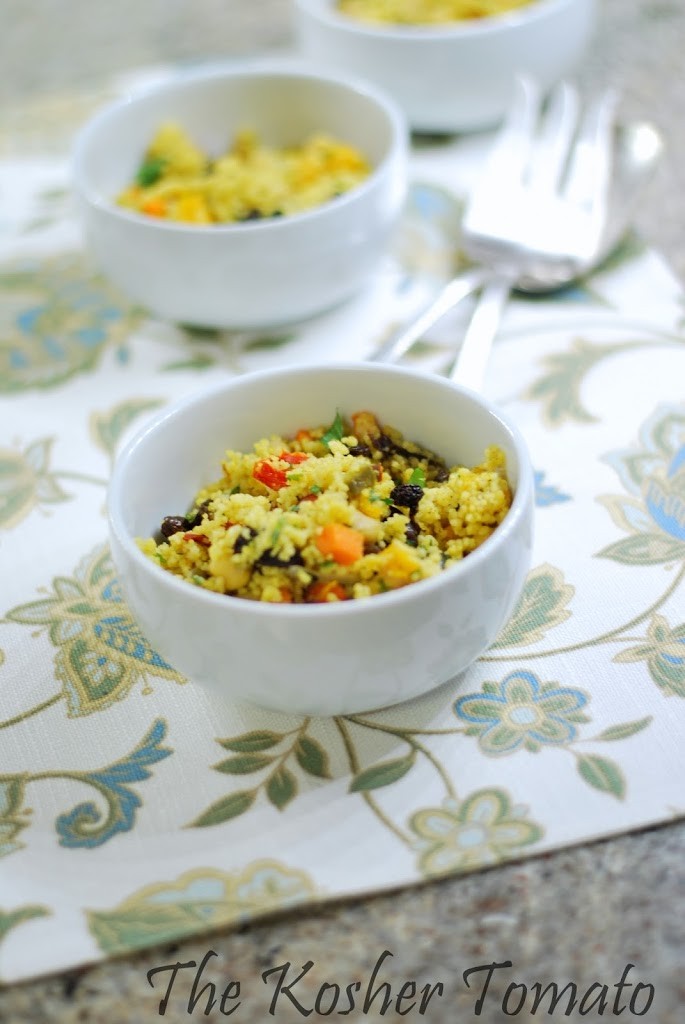 Couscous is a North African food that is made of semolina – granules of durum wheat. It is easily prepared by steaming and can take on the flavor of most things you add to it. Many North African countries such as Tunisia, Algeria, Morocco and Libya use couscous as a staple in their cooking.
I love it because it is a practical alternative to rice – or other grains for that matter. I was asked by my mother in law (who is hosting Thanksgiving this year) to make some type of grain. While I had a particular wild rice dish in mind, my local supermarket did not have it in stock. When I saw the couscous, I knew it was a perfect last minute replacement.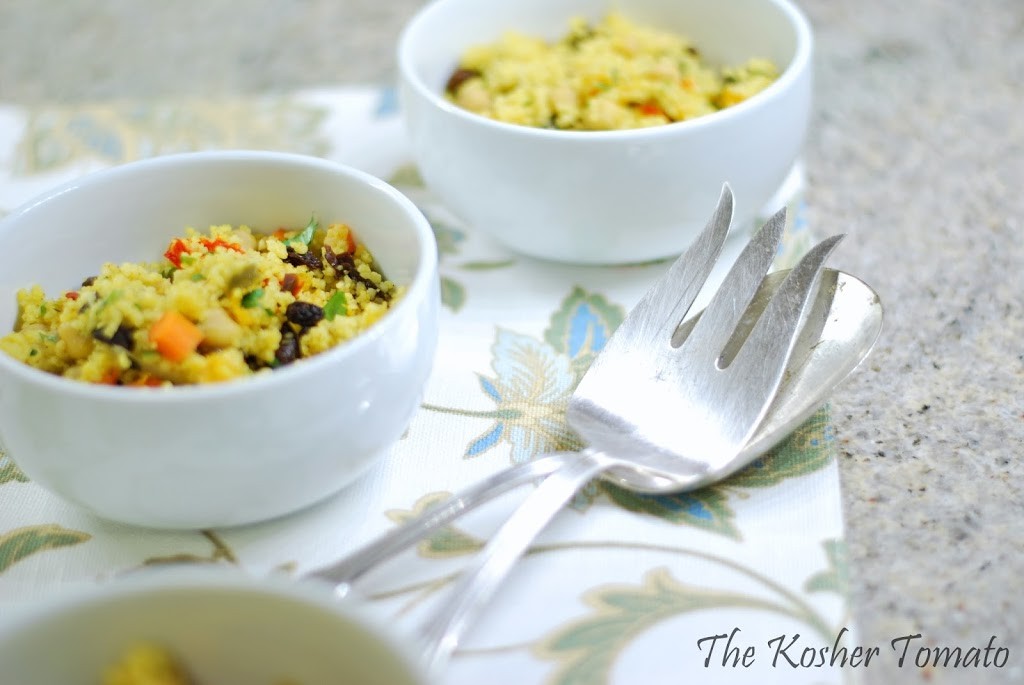 Originally, my wild rice dish was going to have typical Autumn flavors ( cranberries, pecans, apples) but I thought that couscous needed more exotic flavors. Here, I was inspired by Leslie of Scrumpdillyicious. I changed it to fit my style and ingredients I had on hand. I also tried to simplify the recipe.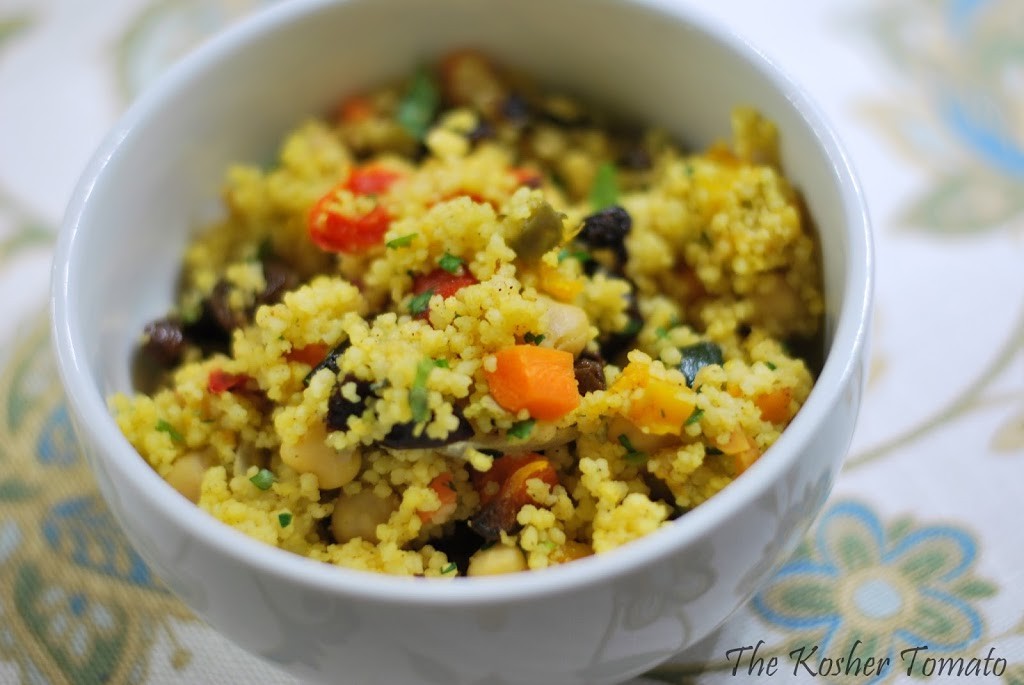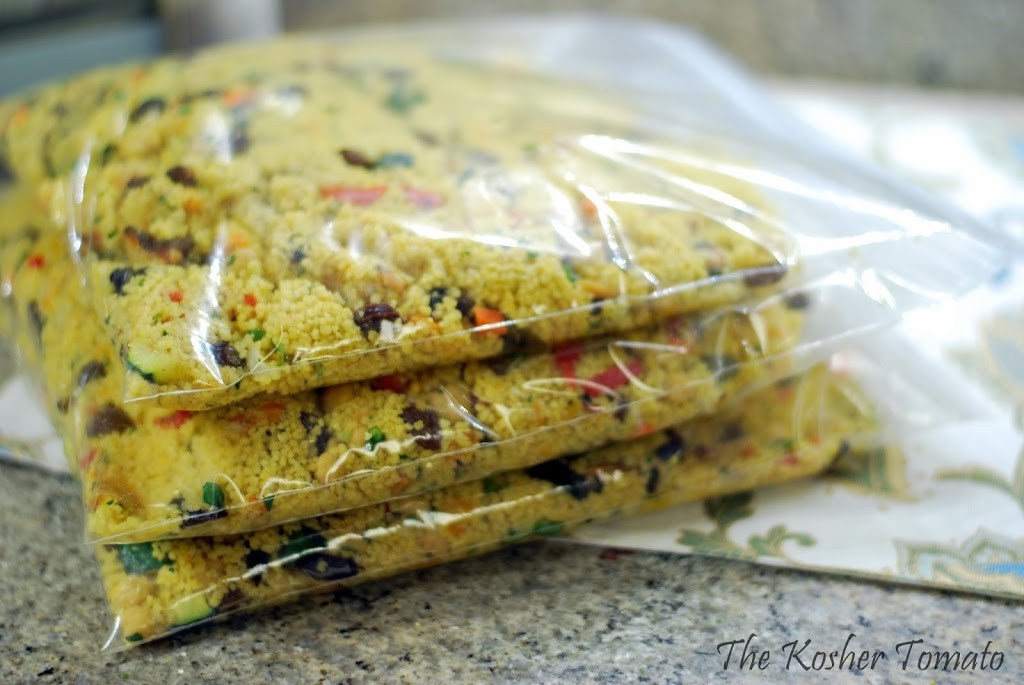 Moroccan Couscous
Author:
Ingredients
4 tbsp olive oil
2 carrots, small dice
1 1/2 cup butternut squash, diced small
1 zucchini, small dice
1 jar of roasted red & yellow peppers
1 can of chickpeas, rinsed and drained
1/2 cup slivered almonds, toasted
1 cup raisins
1/2 cup prunes, diced
4 cups chicken stock, ( or vegetable stock )
1 tablespoon turmeric
2 tsp ground cumin
1/2 tsp ground cinnamon
Salt to taste
2 cups couscous
1/2 lemon, freshly squeezed
1/4 cup fresh cilantro, chopped
1/4 cup fresh parsley, chopped
Instructions
Preheat your oven to 350F. Drizzle olive oil and salt over butternut squash, carrots and zucchini and roast in oven until semi soft and golden.
Meanwhile, in a large bowl, combine couscous, roasted peppers, toasted almonds, chickpeas, and prunes. Set aside.
Bring the chicken stock, raisins, turmeric, cumin, cinnamon and salt to a boil. Pour over ingredients in the bowl. Mix with roasted vegetables. Season with salt as needed, lemon juice for brightness and garnish with fresh herbs.
Enjoy hot or room temperature. Freezes well.