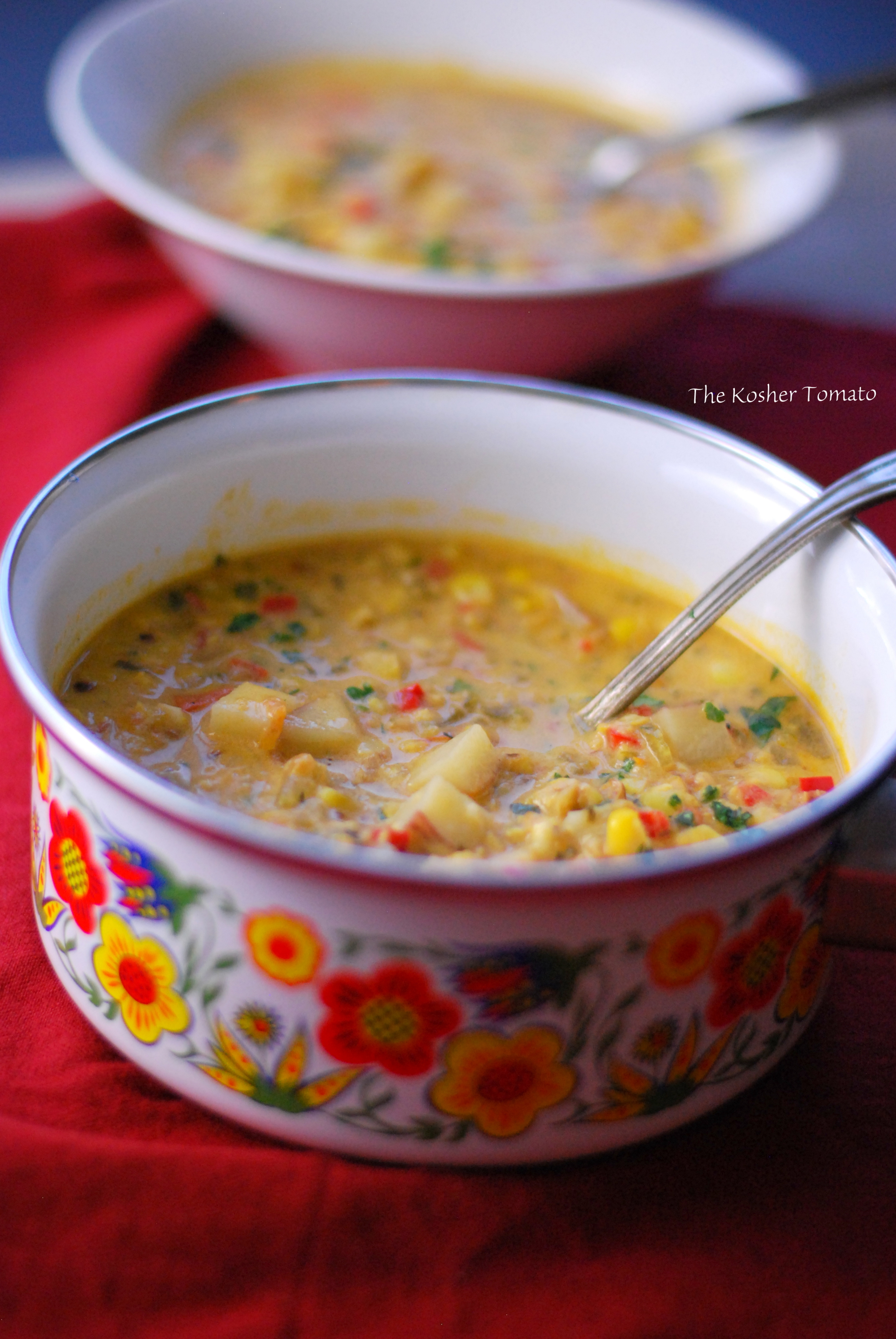 Two years ago, my daughter and I started a small 4×4 garden that was a beautiful labor of love. It had tomatoes, cucumbers, peppers and some herbs. It was a modest little garden and it did well. When my second daughter (Emily) was born last May, we had our hands full of another type of love, so we put our garden on hold.
Since my first (Eliana) was born in April, we thought it would be nice that for her birthday, we would request everyone's help to build her "secret garden" and instead of regular gifts, bring seeds of fruit, and vegetables. It worked wonderfully because we expanded the 4×4 garden almost 4 or 5 times the size and we had a little project to work on together. Now, we have an amazing amount of fruits and vegetables that have grown from seed!
While there is no corn in sight yet, the crop it is now TALLER than Eliana! It got me thinking about fresh Jersey corn and how delicious it can be in a simple preparation. This corn chowder is incredibly flavorful, and yet so light even with a tiny bit of cream. It can work beautifully with some crusty bread, or a side salad (add some beans for protein) and you have yourself a fresh, summer meal. (it also works just as fine with frozen or canned corn, just rinse it well)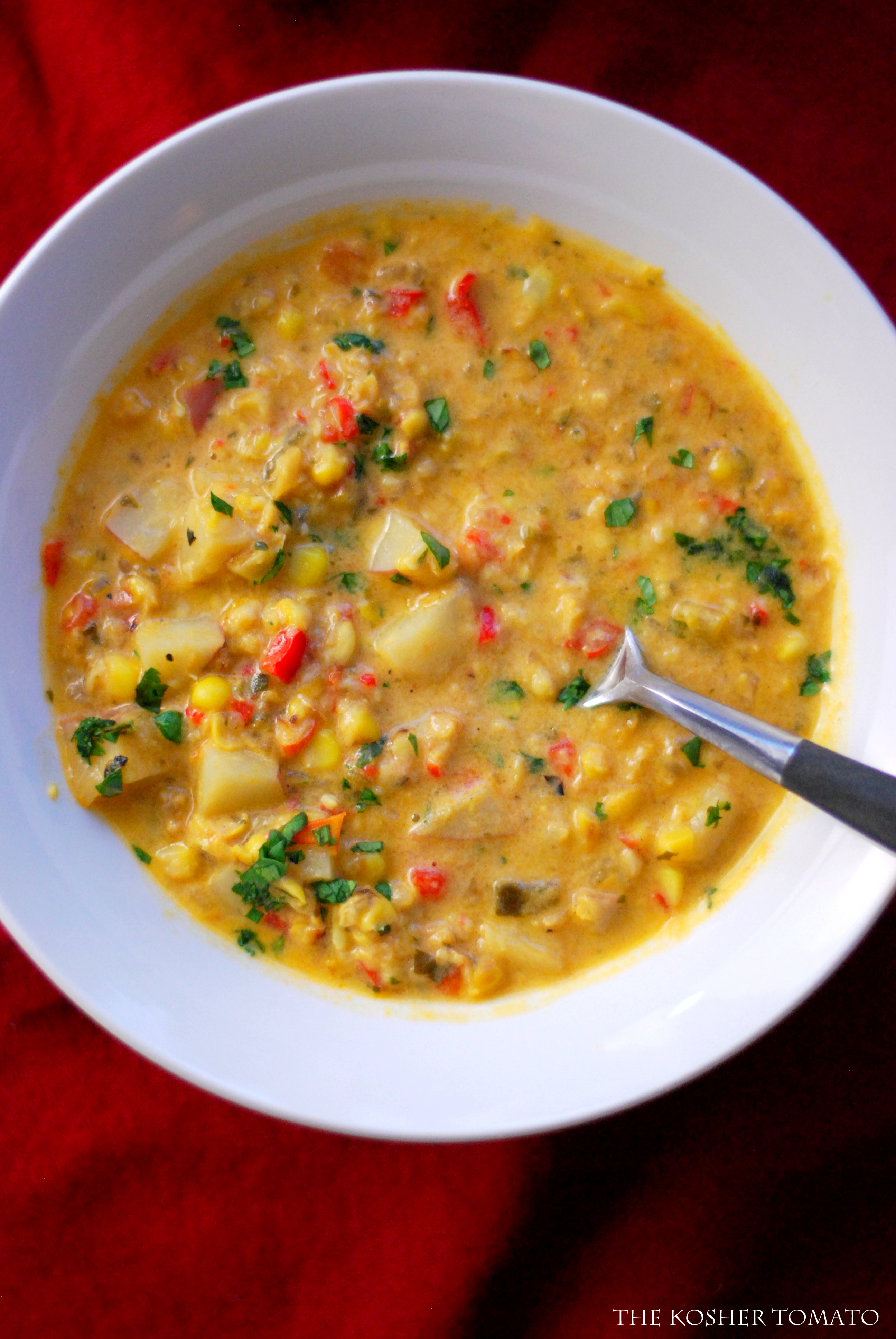 Ingredients
1 Tablespoon olive oil, 1 teaspoon olive oil (separate)
6 fresh corn stalks, kernels removed and roasted
4 garlic cloves, minced
1 onion, diced
3 celery stalks, diced
1/2 jalapeno, seeds removed and minced
1 red pepper, diced small
1 poblano pepper, roasted (over open flame) and small dice
2 vine ripened tomatoes, seeds removed and small diced
2 red bliss potatoes, unpeeled and small dice
3/4 cup light cream
3 cups vegetarian broth (or just 4 cups water)
1 cup cold water
salt and pepper to taste
1 Tablespoon chopped cilantro
Instructions
Start by getting a saute pan hot, without oil, and then add the 1 teaspoon of oil, and corn kernels. Lower the heat a bit, and without moving the kernels, allow them to char on one side before tossing them to the other side. Once corn is mostly charred, remove from heat and set aside.
Rub a bit of oil over the poblano pepper and char over an open flame on the stove until black all over, and put in a bowl covered with plastic wrap and allow to steam. After about 7 minutes, carefully remove the black char and dice the poblano (small dice) and set aside.
In a soup pot, add the tablespoon of olive oil, and saute garlic, onion and jalapeno until soft and fragrant. The onion should be translucent. Next, add the red pepper, celery and cook until softened.
Follow by adding the poblano pepper, tomatoes, potatoes, corn, and vegetarian broth and water (or all water) and season to taste. Cook for about 20-25 minutes on low, until the vegetables are soft and then add the cream. Cook for another 5-10 minutes and check the seasoning again. Finish off with chopped cilantro and serve immediately. Works great with crusty bread or a side salad. Can easily freeze!
https://plantainsandchallah.com/fresh-corn-chowder/