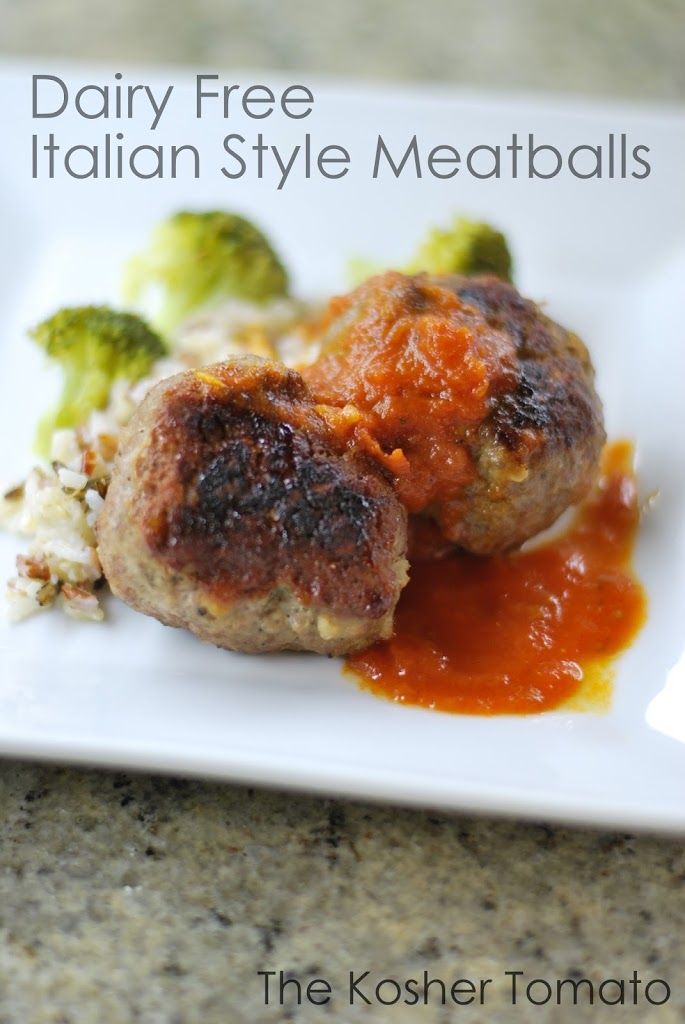 Italian Style meatballs are almost always done with some type of dairy (Parmesan cheese, milk, etc) – which is not kosher to mix with meat.

I have always done meatballs the way my mom has, which was to just season them as I would most meats, form them and cook them right in the sauce. Not only was it practical, but they were always delicious.

When hearing about Italian style meatballs and how they were seared on the outside, I was intrigued. 

I was always taught in culinary school, that you don't typically sear something to achieve a perfect crust, only to cover that up and ruin it with sauce that will inevitably make it soggy.

However, I overheard a friend talk about how it really locks in the flavor – and that made sense.

I was determined to make them kosher, (therefore dairy free) and still have them come out juicy, tender and flavorful. My husband and daughter's empty plate proved I succeeded.

Dairy Free Italian Style Meatballs

1 lb ground meat, (80/20 mix)
1/4 cup mayonnaise
1/4 cup rolled oats (or bread crumbs)
1 Tbsp garlic, minced
1/2 small onion, grated on a box grater
1 tsp kosher salt
1 tsp pepper
1 tsp dried oregano
1 tsp dried basil

Mix all ingredients well until incorporated, but do not over mix. Form into 2 1/2 inch balls and place on a baking sheet lined with foil or parchment. Cook in a 350 F oven until golden brown. Rotate them halfway through cooking.