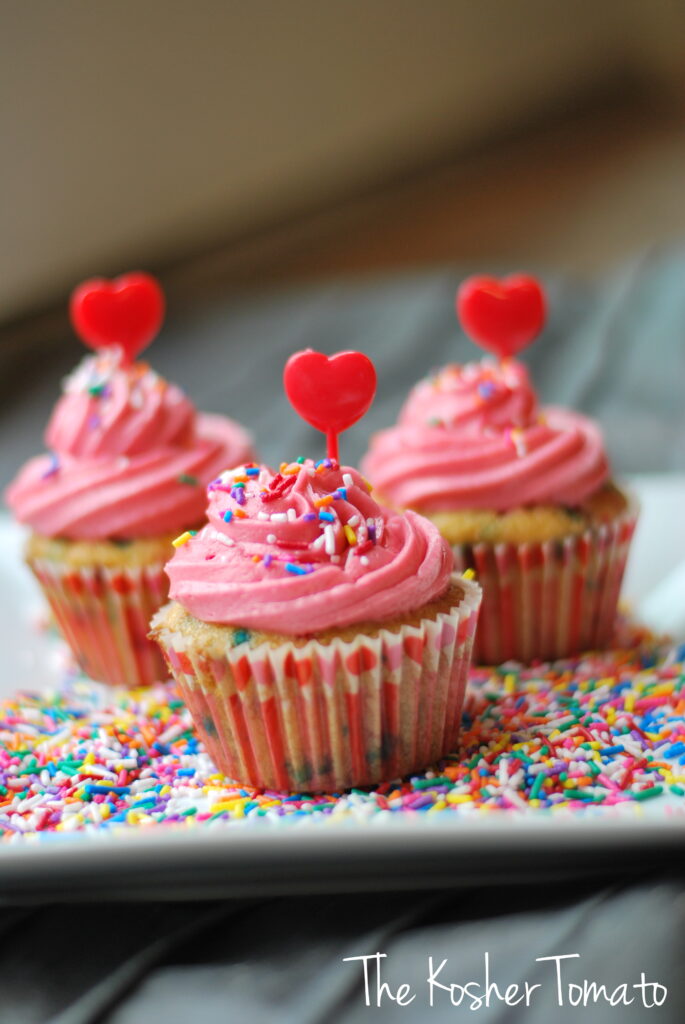 Yeah, yeah…I know the super bowl is tonight and everyone is focused on that, but I'm thinking ahead since I am not a huge football fan and Valentine's Day is next weekend!
While it may not be Jewish holiday, and frankly it is very "hallmark holiday, I think it is still fun to make a few sweet things and show appreciation for your loved ones!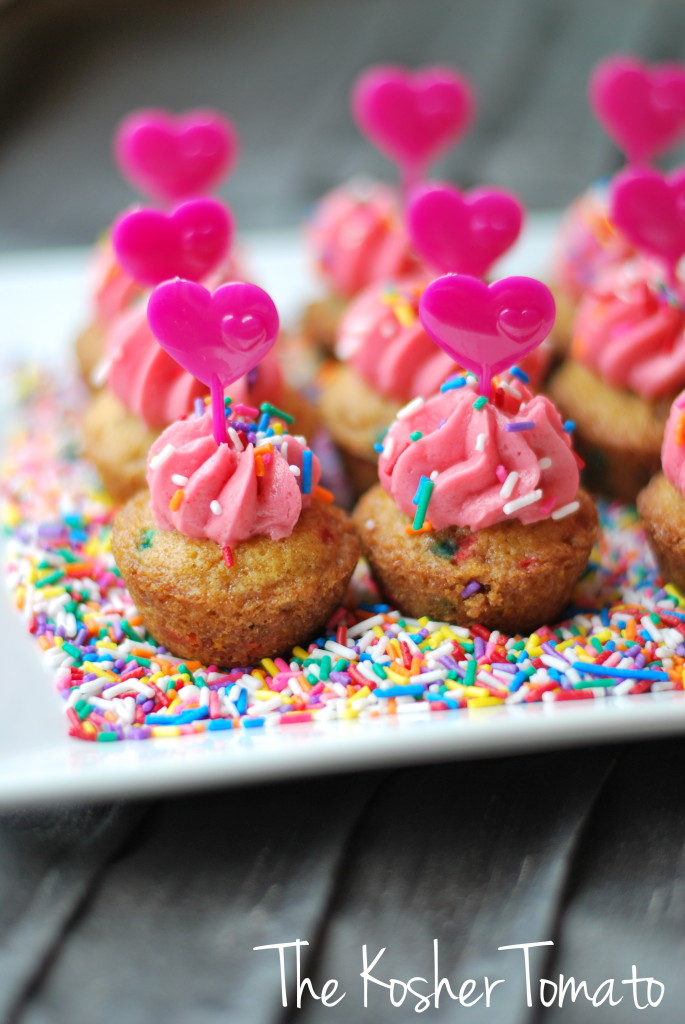 So, this post is dedicated to my sweetie, my one and only husband and father of our child(ren) [due with baby #2 at the end of April!) We make a perfect balance between the two of us and he works so hard for his family! I love him more every day and since he loves anything sweet, especially "funfetti", so instead of buying something prepackaged, I made it homemade, with love. I wanted to make him some as a thank you and a reminder of how much I love him.
The cupcakes themselves are dairy free, but the frosting is not. Frosting tips can be found at his great site: our best bites 
Homemade Funfetti Cupcakes
Author:
This made 12 regular size cupcakes, and 24 mini cupcakes
Ingredients
CUPCAKES:
2 cups all-purpose flour
1 1/2 cups granulated sugar
1 teaspoon baking powder
2 teaspoons baking soda
1/8 teaspoon salt
2 eggs
1/2 cup vegetable oil
1 cup coconut milk
3 teaspoons vanilla extract
1/2 cup rainbow sprinkles
FROSTING:
3/4 cups softened butter
3 1/2 cups confectioner's sugar
3 tablespoons heavy cream (milk also can work too)
1/2 cup thick raspberry jam or preserves ( I like the bonne maman brand)
2 teaspoons vanilla extract
Instructions
FOR CUPCAKES:
Preheat oven to 350F and spray pans or cupcake liners
Sift dry ingredients (except sprinkles) and set aside.
Mix eggs and rest of wet ingredients. Combine the wet and dry ingredients, and fold in sprinkles.
Pour the batter in the pans approximately two-thirds of the way and bake until golden brown.
Cool on a wire rack. Frost once completely cooled.
FOR FROSTING:
Beat softened butter in mixer until creamy and smooth. Approx 3-4 minutes
Add the sugar, cream or milk, and vanilla extract and beat on high-speed until well combined. Add jam or preserved and beat until thick and creamy – about 2 minutes.
HOW TO FROST THE CUPCAKE:
Excellent explanation from ourbestbites.com: (link in post)
"When you're ready to pipe, hold your bag perpendicular to your cupcake. You'll want to apply constant and even pressure and move in one fluid motion. Start on the outside edge, and make a circle around the border of the cupcake. As you get to the point where you started, continue in a circle, but move in a little overlapping your first circle to create a spiral"